Nicholas Brown - Harold Wright Clarinet Merit Award - 2019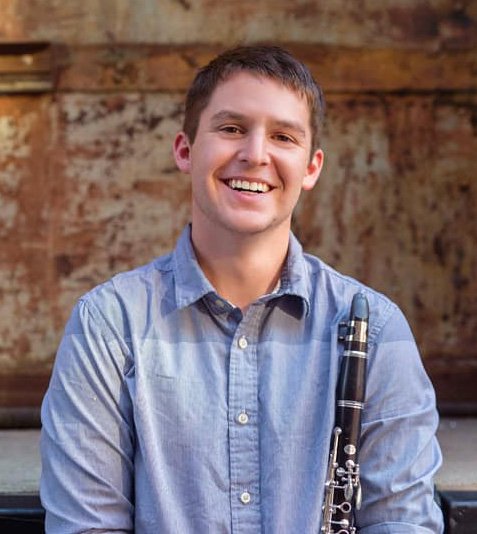 Nicholas is a clarinetist and educator in Boston, MA. He is Principal Clarinet of the New Bedford Symphony Orchestra and Second/Bass Clarinetist with Boston Lyric Opera, following two years with the Civic Orchestra of Chicago. He is a substitute with The Philadelphia Orchestra, Chicago Symphony, and New World Symphony, among many other New England orchestras. Nicholas has appeared as soloist with the Boston Pops Orchestra and Symphony Nova, as well as being a finalist for the Eastern Connecticut Symphony's Solo Competition and grand-prize winner of the Jean and Harvey Picker Prize, Emily K. Rand Scholarship, and the Boston University Departmental Award for Excellence in Performance. As a chamber musician Nicholas has appeared as a Festival Artist with the Newport Music Festival. He is also a member of Hathor Winds, a Boston-based wind quintet that has performed throughout New England and competed at the Fischoff and Plowman competitions, as well as being one of two semi-finalist ensembles in the 2015 Astral Artists National Auditions. Nicholas' primary teachers include Thomas Martin, John Bruce Yeh, and Ethan Sloane. He has also worked with Stephen Williamson, John Bruce Yeh, Michael Wayne, David Martins, Yehuda Gilad, Larry Guy, Joaquin Valdepeñas, Pierre Dutrieu, and Thomas Parchman. Nicholas received his Bachelor of Music, cum laude from Boston University and Master of Music with Academic Honors from the New England Conservatory of Music.

Yu-Rou Li - Honorable Mention Award - 2019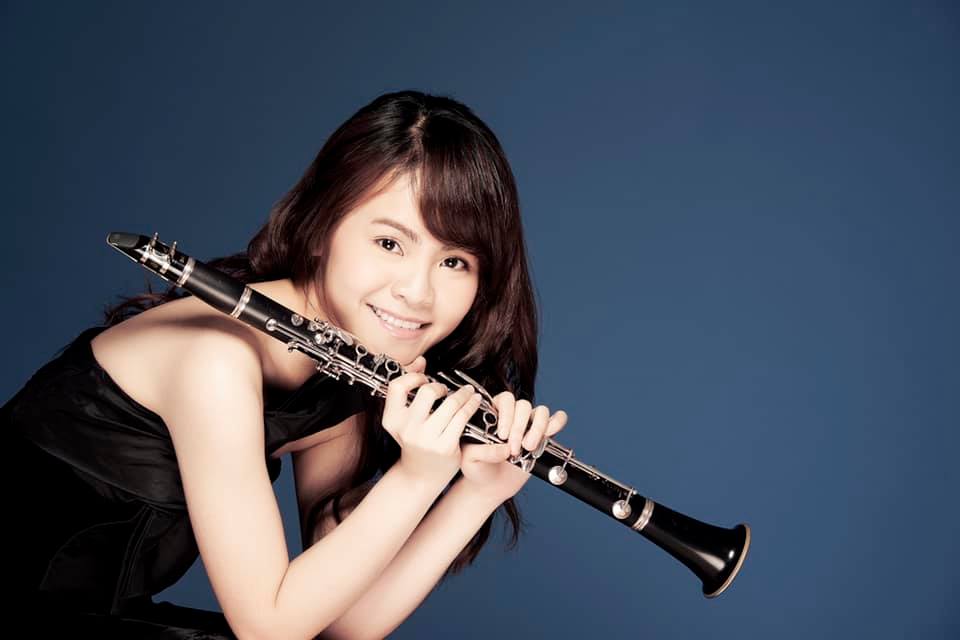 Yu-Rou is originally from Taiwan. She completed her Bachelor of Music degree and Master of Music degree from the Taipei National University of the Arts, where she studied with Professor Wei-Leng Chen. She is currently pursuing her Doctoral degree in Clarinet Performance at the University of Texas at Austin under the guidance of Professor Jonathan Gunn. Yu-Rou has performed with the Taipei Symphony Orchestra, National Symphony Orchestra (Taiwan), and Taipei Philharmonic Orchestra. She has won third prize in the International Clarinet Association Young Artist Competition and was the winner of Taipei Symphony Orchestra Young Talent Competition, performing Weber Clarinet Concerto No.2 with the Taipei Symphony Orchestra.
Shuyan Jin - Harold Wright Clarinet Merit Award - 2018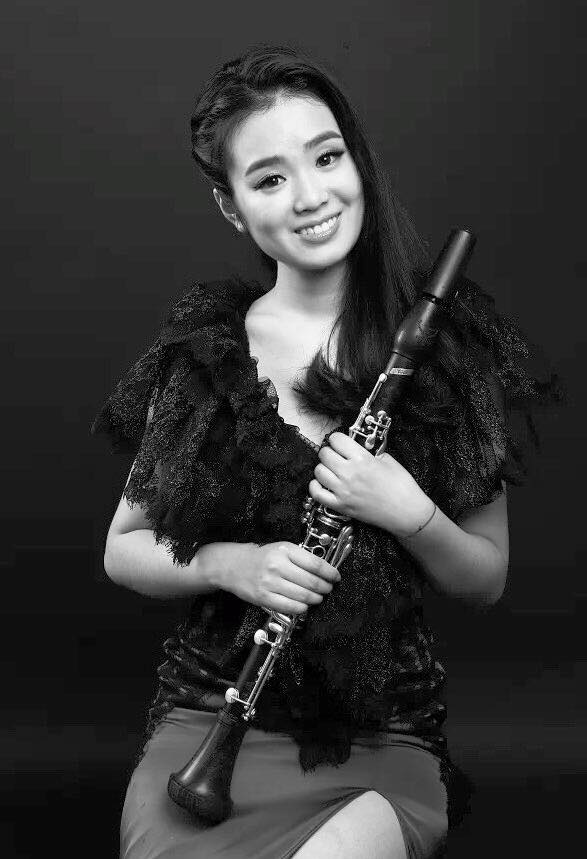 Shuyan Jin began her clarinet studies in China when she was 8 years old. In 2012, she won first place in the Yangji International Clarinet Competition. Following that, she attended the Central University of Nationalities School of Music in Beijing, where she earned her Bachelor of Music degree. During her undergraduate studies, she went to Drake University in Iowa as an exchange student for one year, where she won the Drake University Honors Competition. In 2016, Shuyan began studies at Longy School of Music of Bard College in the Graduate Performance Diploma program, where she won Honorable Mention in the school's concerto competition. Shuyan Jin has participated in masterclasses with Matthias Mueller, Philippe Cuper, Jonathan Cohler, and Pierre Genisson, among others. As an orchestral clarinetist, she has performed with Minzu Minority Philharmonie, the Minzu University Wind Symphony, and the New Philharmonia Orchestra. In the Fall of 2018, she will begin pursuing her Master's degree at the Longy School of Music.

Elias Rodriguez - Honorable Mention Award - 2018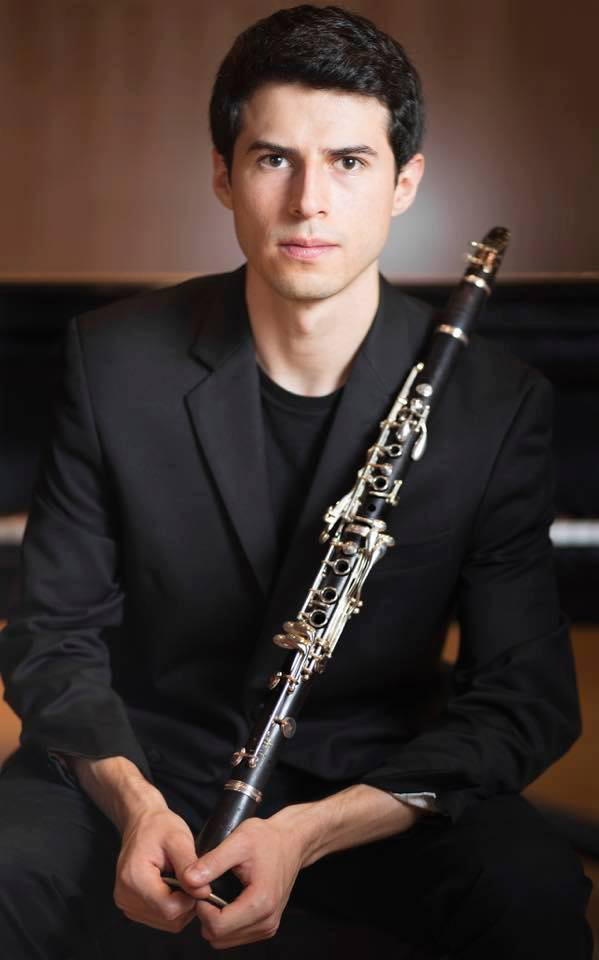 A native of Duncanville, Texas, Mexican-American clarinetist Elias Rodriguez made his national solo debut in his fifth year of clarinet studies, at the age of 16, after performing on a live broadcast of NPR's From the Top. Currently, he is a member of The Orchestra Now, a pre-professional orchestra comprised of graduate musicians from around the world. He is a recipient of a three year full-tuition scholarship to Bard College, where he will complete a Master's Degree in Curatorial, Critical and Performance Studies in May 2018. He has been invited to perform in international music festivals throughout North America and Europe, including the American Wind Symphony Orchestra, The Banff Centre, Le Domaine Forget, L'Orchestre de la Francophonie, YOA Orchestra of the Americas, the Bard Music Festival, and the Grafanegg Festival in Vienna, Austria. He won first prize in The Orchestra Now's first ever concerto competition, performing Carl Maria von Weber's 1st Clarinet Concerto for a live and radio audience on WMHT New York. He can be heard on the Hyperion Records label, accompanying Australian pianist Piers Lane as a member of The Orchestra Now. Elias has a Bachelor's degree in Music Education from Baylor University and a Master's Degree in Clarinet Performance from The University of Michigan, Ann Arbor. Elias is a recipient of the 2018 Harriet Hale Woolley Scholarship and was awarded an artist residency in Paris, France. He will attend L'Ècole Normale de Musique de Paris Alfred Cortot to study under Patrick Messina. Elias is a fluent English, Spanish, and French speaker.
Milos Bjelica - Harold Wright Clarinet Merit Award - 2016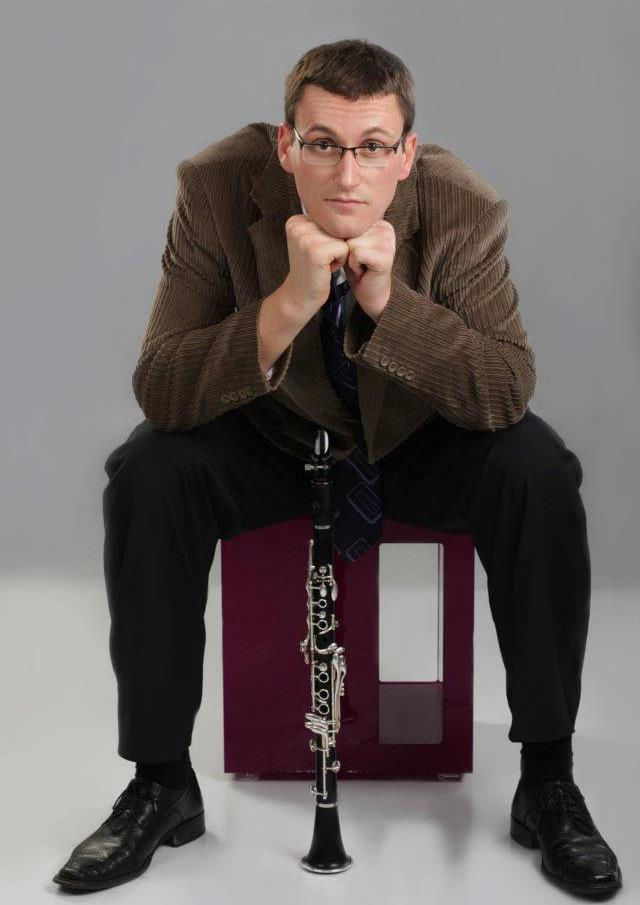 Milos Bjelica has performed formal recitals and concerts in the United States, Europe and Serbia. He founded and performed with the Nevsky Clarinet Quartet, making it to the finals of "Serbia's Got Talent" in 2011. In the same year, her performed in the German-Nordic Youth Philharmonic. He has attended numerous masterclasses with distinguished professors such as Wenzel Fuchs, Frank Cohen, Yuan Yuan, Jonathan Cohler, Philippe Cuper, Mate Bekavac, Jan Jakub Bokun, Paul Mayer, Stephanie Zelnick, Bruno Di Girolamo, Milan Rericha, and Aleksandar Tasic. Milos has worked in Serbia as a volunteer clarinet instructor for children with disabilities. Currently, Milos Bjelica is pursuing a Graduate Performance Diploma at the Longy School of Music.
Jason Russo - Honorable Mention Award - 2016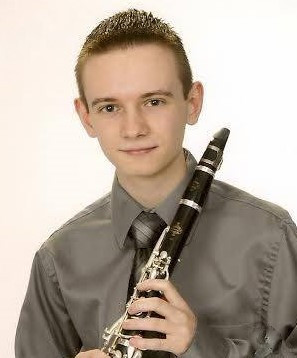 At age eleven, Jason Russo began studying clarinet through the Johnston Public Schools system, in Rhode Island, and has dedicated his life to music since then. Throughout his grammar and secondary school education, Jason has participated in ensembles such as the Rhode Island Philharmonic Youth Orchestra and Wind Ensemble and the Boston Youth Symphony Orchestra under the direction of Federico Cortese. Upon graduation from Johnston Senior High School, Jason enrolled at The Boston Conservatory to study clarinet with Michael Norsworthy, where he will receive his Bachelor's Degree in May, 2018. During his time at the conservatory, Jason has received special recognition, including winning The Boston Conservatory chamber music honors competition in the fall of 2015, and was a finalist in the The Boston Conservatory concerto competition during his freshman year. As an orchestral clarinetist, Jason plays with The Boston Conservatory orchestra, and often substitutes with organizations such as the Boston Civic Symphony, and Symphony Nova. Additionally, Jason has been accepted into prestigious summer programs such as the Brevard Music Center and Miami Music Festival, and has been on the wait-list for the Music Academy of the West. Jason is also an advocate for using music as an outlet for creativity, and for the well-being of people in society, and will often be found volunteering in the Boston community.
Bixby Kennedy - Harold Wright Clarinet Merit Award - 2015

Originally from Maryville, Tennessee, Bixby Kennedy began studying clarinet at age ten under the instruction of RoAnn Romines. Since then, clarinetist Bixby Kennedy has performed solo recitals, chamber music, and with orchestras throughout the world. Currently, Bixby is completing his Master's of Music degree at Yale University under the tutelage of David Shifrin. As a graduate of Indiana University's Jacobs School of Music, Mr. Kennedy studied with Howard Klug, Eric Hoeprich, Eli Eban, and the late Alfred Prinz. He holds degrees in modern and historical clarinet performance, as well as a performer's certificate, which was awarded to him for his junior recital. His solo performances and chamber music initiatives have been recognized with the receipt of the Namita Pal Commemorative Award in 2014 and the Hutton Honors College Creative Activity Grant in 2013. In June of 2015 he will compete in the Ima Hogg solo competition through the Houston Symphony. At the JSOM Historical Performance Institute hestudied and collaborated with artists such as Eric Hoeprich, Stanley Ritchie, Elisabeth Wright, Wendy Gillespie, and Michael McCraw. Bixby has performed in various solo, chamber, and orchestral venues on period instruments and will participate in the 2015 inaugural festival of the Berwick Academy, through the Oregon Bach Festival. Also an advocate of new music, Bixby has premiered solo, concerto, and orchestral works of colleagues and faculty composers of Indiana and Yale Universities. Additionally, as a founding member of the Videnia Wind Quintet, he has commissioned and premiered new chamber works.
Kenta Akaogi - Honorable Mention Award - 2015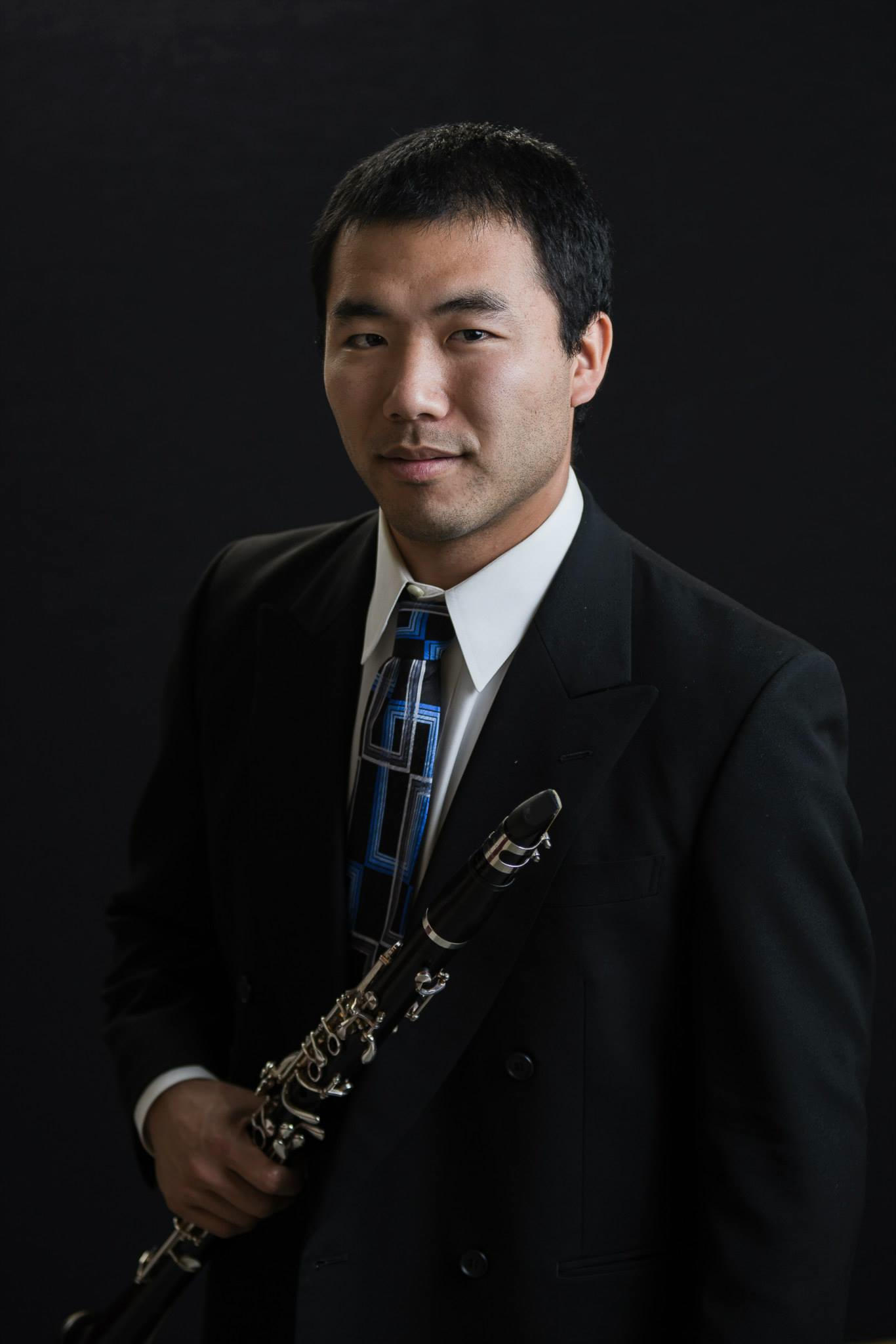 Born in Ibaraki, Japan and raised in the US, Kenta began his clarinet studies at the age of 12 and is currently pursuing a Masters of Music with David Shifrin at the Yale School of Music. He was previously a student and Graduate Assistant of James Campbell and Eli Eban at Indiana University, where he completed a Bachelors of Music and a Performer's Diploma as well as being awarded the prestigious Performer's Certificate. He is a prizewinner of the 21st Annual Indiana University Travel Grant Competition, the San Jose Wind Symphony Young Artist's Competition and was a contender of the 5th Carl Nielsen Clarinet Competition. As an orchestral clarinetist, Kenta has performed with orchestras including the New World Symphony, New Haven Symphony Orchestra, Columbus Indiana Philharmonic, Bloomington Camarata Orchestra and has performed in venues across the US and Europe including the Berlin Philharmonie, Munich Philharmonie, Prague Municipal House and the San Francisco Davies Symphony Hall. He has participated in solo master classes with artists including, Yehuda Gilad, Charles Neidich.Wenzel Fuchs, Paul Meyer and members of the Brentano and Tokyo String Quartets.
Ivan Javier Valbuena Paez - Harold Wright Clarinet Merit Award - 2014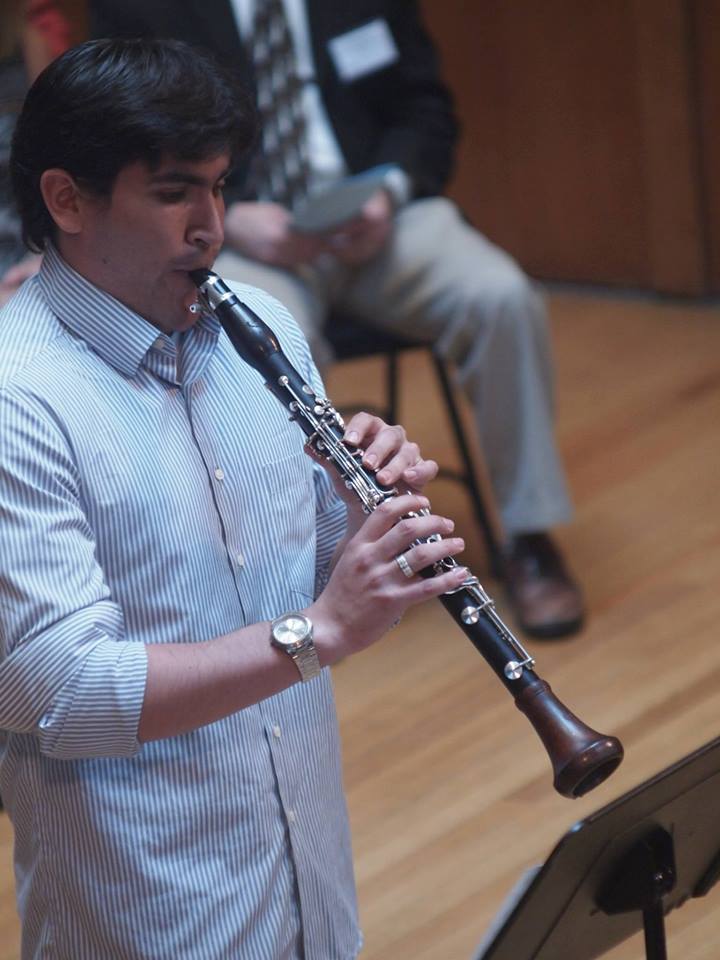 Born in Bogotá, Colombia, clarinetist Iván Javier Valbuena Páez began his studies at eight years old at the Batuta Fundation and the Wind Band System of Cundinamarca. He has performed solo recitals in the auditorium of the National University, the Planetarium Oriol Rangel, the Luis Angel Arango Library Concert Hall, as well as the Leon de Greiff, Christopher Columbus, Teresa Cuervo National Museum auditorium and Edward Pickman Hall in Cambridge, MA. Iván has participated in Master classes with Héctor Pinzon, Robert De Gennaro, Philippe Berrod, Timothy Perry, Michael Webster, Jonathan Colher, among others. Valbuena has won numerous competitions for his performance, including first place in the National University of Colombia's Solo Competition with the Collegium Musicum Orchestra, as well as the Bogotá Philharmonic Young Performers Competition. He was invited to perform with the Bogotá Philharmonic, he was one of the winners of the Clarinetistas Bogotanos Competition, and won second prize in the OFB National Music Performance Competition in Bogotá. Iván is also the winner of the 2013 Longy School of Music Concerto Competition and Honors Competition in 2014. Iván has been a member of the Youth Orchestra of the Americas (YOA) since 2010, and has been selected as one of eight musicians from throughout the Americas to participate in the YOA Global Leaders Program, a leadership training course. He graduate from the National Conservatory of Music at the National University of Colombia and is currently pursuing a Master of Music degree in clarinet performance at Longy School of Music of Bard College. Iván is a student of Jorge Montilla.
Camila Barrientos Ossio - Harold Wright Clarinet Merit Award - 2012 Ms.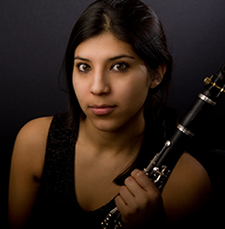 Barrientos is a graduate of the Master of Music Program at the Manhattan School of Music in New York, where she also received her Bachelor in Music Diploma and studied with Mark Nuccio. While studying there she was a recipient of the Leon Russianoff Memorial Scholarship. Ms. Barrientos currently freelances in New York. Past performances include a tour with the award-­‐ winning woodwind quintet the City of Tomorrow and participation in the first Bolivia Clasica Festival alongside musicians Phillip Dukes, Adrian Brendel and Ana-­‐Maria Vera. As part of this festival Barrientos, a champion at playing at high altitudes, performed a recital in the Island of the Sun in Lake Titicaca located at 13,000 ft above sea level. She has also been recently featured in the BBC Arts Radio Program "The Strand." Upcoming engagements include a City of Tomorrow recital for the Myra Hess concert series in Chicago and a winter residency for BANFF with the same ensemble.
Wai lau - Harold Wright Clarinet Merit Award - 2011 Born in Beijing, China in 1986, Wai Lau started playing the piano at age 7, and later the clarinet at age 13. She won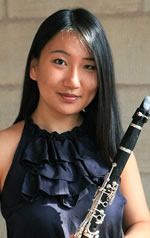 numerous competitions in Hong Kong in the next few years, including First Prize in Hong Kong region in the 2nd Asian Youth Music Competition. Wai completed her Bachelor of Music in Clarinet Performance with distinction in 2008 at Indiana University under the tutelage of James Campbell, and was awarded the prestigious Performer's Certificate. While studying in Indiana, she played with the Columbus Indiana Philharmonic and the Bloomington Camerata Orchestra. She received her Master of Music in 2010 from McGill University studying with Robert Crowley and Alain Desgagne on the Schulich Scholarship. Wai performed a recital in Lodz, Poland in November 2008 as a finalist of the 7th Alexandre Tansman International Competition. In August 2010 she was awarded Grand Prize in the Canadian National Music Festivals Competition. She has engaged in chamber music series at the Festival of the Sound, the Banff Centre, and the Orford Arts Centre. Wai is currently pursuing her Artist Diploma at the Yale School of Music with David Shifrin. She also works as a teaching artist under the Yale Music in Schools Initiative.
Daniel Rosas - Harold Wright Clarinet Merit Award - 2009 Originally from Sao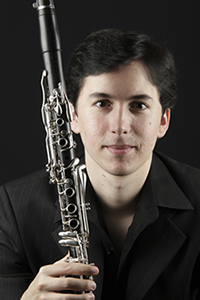 Paulo, Brazil, Daniel Rosas is currently serving as second and Eb clarinetist in Brazil's top orchestra, OSESP (Sao Paulo State Symphony Orchestra). He began his musical studies at the age of 10 with Otavio Manzini, and later studied with Edmilson Nery, Luis Afonso Montanha as well as with Jonathan Cohler, well known recitalist and soloist. Daniel received his Bachelor Degree in Music from UNESP (Sao Paulo State University) where he studied with Sergio Burgani and later was awarded the Vitae Merit Scholarship for his clarinet and piano duo. Daniel also performed as a soloist with National Symphony Orchestra in Niteroi, and with the Brazilian Symphony Orchestra, both in Rio de Janeiro, and with the Orchestra for Experimental Repertoire in Sao Paulo. He won first prizes in national competitions at the 6th Weril Competition for Woodwind Soloists (Sao Paulo), 1st Contest for Young Clarinetists (Rio de Janeiro) and in the 16th Young Players of Brazil (Piracicaba).
His Professional Experience includes: principal clarinet at the Sao Bernardo Philharmonic Orchestra, Sao Paulo State Symphonic Wind Band, with which he recorded a CD, and Sao Paulo State Symphonic Jazz Orchestra, where he appeared as soloist, playing a solo by Paulinho da Viola, Choro Negro .
Rebbecca Doggett - Harold Wright Clarinet Merit Award - 2008 Originally from Brookline, MA, Rebecca Doggett is currently a student of David Shifrin at the Yale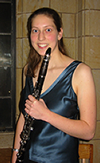 School of Music where she is pursuing a Masters of Music in clarinet performance. Rebecca completed her undergraduate studies at Yale, graduating magna cum laude with a double major in psychology and music. While at Yale, Rebecca served as principal clarinetist of the Yale Symphony Orchestra and was awarded the Seymour Lustman Prize for artistic and cultural contributions to the Yale community. In 2001, Rebecca made her Boston debut with the Boston Pops orchestra under the direction of Keith Lockhart as winner of the Boston Symphony Orchestra High School Concerto Competition. She is the recipient of an achievement award from the Harvard Musical Association and received the woodwind department award and the Eugene Lehner chamber music award upon graduating from the New England Conservatory Preparatory School where she was a student of William Wrzesien. During the summers, Rebecca is a faculty member at Jr. Greenwood Music Camp, a small chamber music camp in the Berkshires which she attended for many years. In the fall of 2008, she will be starting her Ph.D. in Clinical Psychology at UC Santa Barbara, researching behavioral intervention techniques for children with autism.
Yuan Gao - Harold Wright Clarinet Merit Award - 2007 Yuan Gao started studying at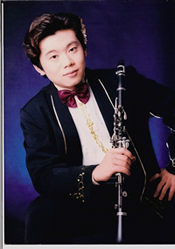 the Central University of Nationalities College of Music in Beijing at the age of 13. He won the First Prize at The Second National Clarinet Competition of China when he was 16. A year later, he was the top prizewinner at Jeunesses Musicales International Music Competition in Romania. He is currently a member of Trio Diamante (clarinet, violin and piano), which was recently one of only twelve groups in the country invited to the quarterfinal round of the National Fischoff Chamber Music Competition in the Senior Division String category. Last year, Trio Diamante won First Prize at the International Chamber Music Ensemble Competition (sponsored by the Chamber Music Foundation of New England) and performed at Carnegie Hall. He has studied in Vienna, Belgium and Paris with Peter Schmidl (Principal Clarinetist of the Vienna Philharmonic), Eddy Vanoosthuyse (Principal Clarinetist of the Flemish National Radio Orchestra) at the Royal Conservatory of Music in Ghent, and Michel Lethiec (Professor at the Paris Conservatory). In the fall of 2007, Yuan will coninue studying with Jonathan Cohler, with whom he has worked since 2005, and complete the requirements for an Artist Diploma at the Longy School of Music in Cambridge, Massachusetts,
Danielle Occhipinti - Harold Wright Clarinet Merit Award - 2006 Originally from New York, Danielle studied with David Dworkin and Ben Amato, both formerly of the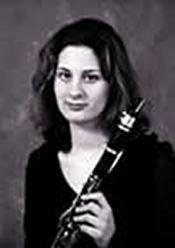 Metropolitan Opera Orchestra, and continued her studies at New England Conservatory with Thomas Martin of the Boston Symphony Orchestra, as well as with Jonathan Cohler, well know recitalist and soloist. As a clarinet performance major, Danielle received her Bachelor of Music degree in 2005, and her Master of Music degree in May 2007. An active orchestral musician, Danielle has played with several professional orchestras, including the Boston Philharmonic, Nashua Symphony and Granite State Symphony. In the summer of 2007, Danielle attended the American Institute of Musical Studies in Graz, Austria.
Amy Advocat - Harold Wright Clarinet Merit Award - 2005 Completing her studies at New England Conservatory, Amy received her Bachelor of Music degree with Distinction in Performance in May 2004. She went on to continue her studies at that same institution and received a Master of Music degree in May 2006. Amy's motivation, dedication, and level of accomplishment typify the high standards required of recipients of the Harold Wright Clarinet Merit Award. She was chosen unanimously by a panel of judges comprised of two members of the Boston Symphony Orchestra's clarinet section, Thomas Martin and Craig Nordstrom; world-renowned clarinet soloist and recording artist, Richard Stoltzman; and William Wrzesien, chair of New England Conservatory's Woodwind Department. All are members of New England Conservatory's clarinet faculty. We congratulate Amy and wish her continued success