On April 18, 2013, the Harvard Institute for Learning in Retirement (HILR) hosted a memorial concert celebrating Matthew Ruggiero at Memorial Church in Harvard Yard. A large contingent of HILR students and administrators, members of the Boston Music community, as well as former colleagues, friends and family members of Matthew Ruggiero gathered for the special tribute performance.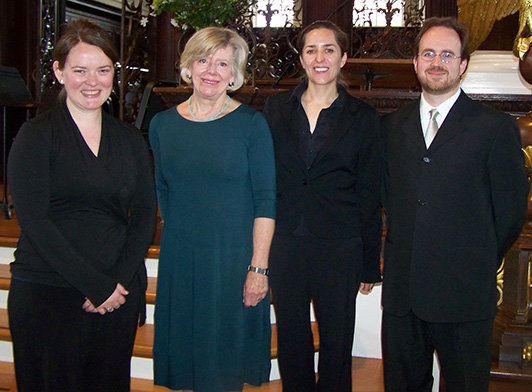 Leonie Gordon and members of the The Boston Wind Octet:
(from L to R) Elizabeth England, Leonie Gordon,
Stephanie Busby, and Neil Godwin
Dr. Ruggiero was a beloved member of the HILR and Harvard community, having earned his bachelor's and master's degrees from the Harvard Extension School. From 2001-2012, he taught various courses at HILR, most notably a cycle of Dante courses. He also brought music to HILR programs, through various concerts and lectures.
The memorial concert opened with performances by the bassoonists of the Boston Symphony Orchestra: Richard Svoboda, Suzanne Nelsen, Richard Ranti, and Gregg Henegar. The quartet performed works of the bassoon quartet repertoire by Michel Corrette and Sergei Prokofiev, as well as an arrangement by Richard Ranti of the Aria from Bach's Goldberg Variations. The audience was treated to the cheerful Baroque sound of Corrette's Le Phenix, the gentle melancholy tone of Bach's Goldberg Aria, and the humorous capabilities of the bassoon, demonstrated in Prokofiev's Humorous Scherzo. The bassoon quartet was followed by a moving performance by Martha Babcock, the Boston Symphony's associate principal cellist, of movements from Bach's Suite no. 3 for solo cello. Following the Bach, The Boston Wind Octet, formerly directed and coached by Matthew Ruggiero, performed two works by Beethoven: the second movement of the Octet for Winds (op. 103), and the Rondino (WoO 25). The Boston Wind Octet, founded in 2002 by Elah Grandel and Stephanie Busby, bassoon students of Matthew Ruggiero at that time, is comprised of young Boston freelance musicians, who are graduates of Boston University and New England Conservatory. The beautiful sounds of oboes, clarinets, horns and bassoons filled the space of the Memorial Church.
Following the octet, a string trio of Joseph Silverstein, former concertmaster of the Boston Symphony Orchestra, as well as the BSO's principal violist, Steven Ansell, and principal cellist Jules Eskin, performed movements from Mozart's Divertimento, K. 563.
Interspersed between musical selections were spoken tributes and remembrances of Matthew Ruggiero. The speakers included, Fred Wanger, head of the HILR Music Committee, Richard Svoboda and Joseph Silverstein, former Boston Symphony Orchestra colleagues of Matthew Ruggiero, and Stephanie Busby, a former student of Matthew Ruggiero at Boston University. The speeches included praises for the many accomplishments of Dr. Ruggiero, as well as fond reminiscences and comical anecdotes, in recollection of Matthew Ruggiero's delightful sense of humor.

It was a memorable day for all involved, and a fitting tribute to a remarkable man.
Special thanks for their work organizing the concert to:
Fred Wanger, head of the HILR Music Committee
Leonie Gordon, Assistant Dean and Director of HILR
Richard Mackey, former Boston Symphony Orchestra horn player,
and member of HILR music committee